Cleansing Products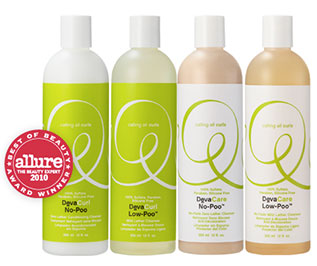 Detergents found in most shampoos produce lather but dries your curls. Cleanse your curls gently with DevaCurl cleansers which are sulfate, paraben and silicone free. Formulated with a rich blend of botanical ingredients, DevaCurl cleansers provide maximum moisturization. When switching from shampoo to DevaCurl, continue your normal cleansing schedule. Once the hair becomes more hydrated and healthy, you can cleanse less often.
DevaCurl No-Poo™
The ORIGINAL best-selling zero lathering cleanser stimulates, hydrates and cleans the scalp and hair to reveal the healthiest, bounciest curls. Accept NO imitations!
DevaCurl Low-Poo™
A mild lathering and moisturizing cleanser that gently cleans and hydrates to restore shiny, healthy curls and provide long-lasting color.
DevaCare No-Poo™
A no-fade zero lathering cleanser that gently cleans and hydrates color-treated hair to reveal the healthiest, frizz free curls.
DevaCare Low-Poo™
This no-fade mild lathering cleanser is enriched with Vitamin C to moisturize and enhance color treated curls.