Curly Tools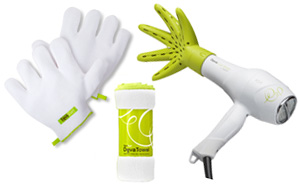 DevaCurl curly tools are the perfect extension of the DevaCurl product collection. Excellent for styling preparation and gentle drying, DevaCurl curly tools promise to maximize your curl's naturally beautiful potential.
DevaCurl Towel
Did you know the coarse and absorbent texture of a terrycloth towel promotes frizz for your curly hair? The DevaTowel provides a smooth surface and absorbs just enough water to allow DevaCurl styling products to set curls while keeping them defined, frizz free and intact.
DevaCurl Dryer and DevaFuser
The first dryer and diffuser created specifically for curly and wavy hair! The NEW DevaCurl Dryer guarantees softer, shinier, frizz free curls. The innovative hand-shaped DevaFuser delivers 360-degree airflow to gently dry curls.
DevaCare DevaGloves
Did you know the coarse texture of a terrycloth towel promotes frizz and is too absorbent for the gentle fabric that is curly hair? Hands down, DevaGloves are the essential tool for eliminating frizz by providing a smooth surface to gently absorb just enough water to keep curls perfectly defined. Each package of DevaGloves contains two (2) fitted universal sized gloves - one each for the right and left hand.